Sewell Collision Repair Center of Houston
It takes truly inspired service to create a positive experience in the wake of a collision that damages your car. We make the process of repairing your vehicle as stress-free as possible, taking every measure to return your car in its original, pre-accident condition.
12221 Katy Freeway
Houston, TX 77079
Collision Center
Mon-Fri: 7:30 AM - 6:00 PM
Sat: 9:00 AM - 1:00 PM
Sun: Closed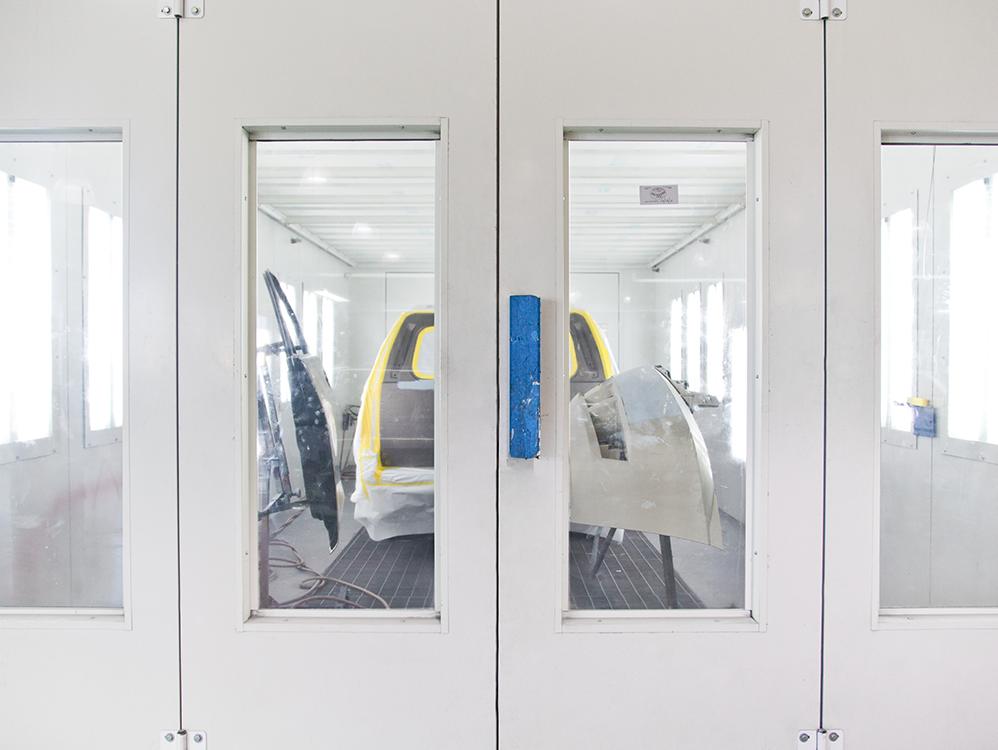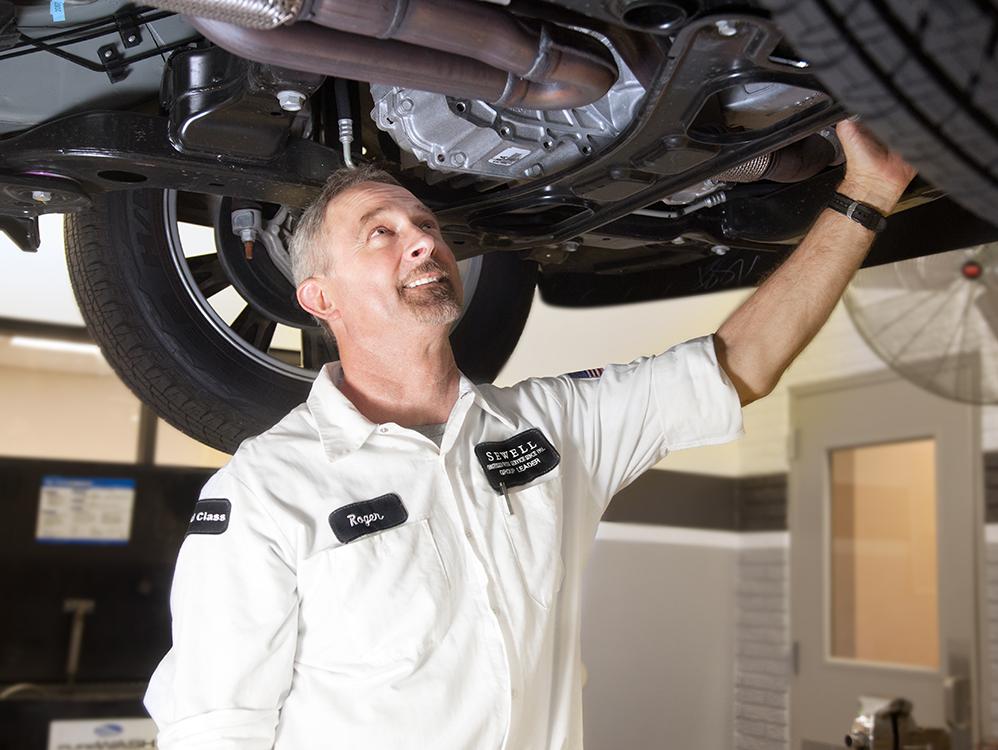 Yes, We Really Do All This
After your free computerized estimate, we arrange for towing and rental cars as well as handling your insurance claims and insurance adjusters. But we do not stop there. Auto accidents are a harrowing enough experience without the added hassle of dealing with a paint and body shop that cannot or will not back up their work. Our lifetime warranty lets you know we are 100 percent confident in our work. Collision repair is the one area of Sewell where we hope you will never need to be a repeat customer.
A Lifetime Warranty. That's Right, Lifetime
It is quite simple - and quite unheard of. Sewell Collision backs all repair work with a written, lifetime warranty. Any defects in workmanship will be corrected free of charge, forever.
Better Facilities Attract Better Associates
If the phrase "body shop" conjures thoughts of a hot, dirty, noisy garage, you have never been to a Sewell Collision Center. Our staff works in an air-conditioned facility with scrupulously scrubbed tile floors, state-of-the-art equipment, and everything else it takes to attract and retain top professionals who could work anywhere.
The Most Advanced Systems in the Business
From ultra-accurate digital measuring systems to computer-commanded robot spot welders, Sewell brings an arsenal of the industry's most sophisticated equipment to the task of putting your collision-damaged vehicle right again. We work hard to stay at the leading edge. When a new system comes out that helps make us even better at collision repair, we will be among the first to have it.
Technicians Who Embody Professionalism
At Sewell, we hire the best, then we pick up the tab to help them be even better. It has never seemed fair to us (or like very smart business) to make associates pay for their own training and professional certifications. The specialists in our collision centers are as up to speed on techniques and technology as anybody in the industry, thanks to training and certification programs by organizations such as I-CAR (the Inter-Industry Conference on Auto Collision Repair), ASE (the National Institute for Automotive Service Excellence), and PPG Industries.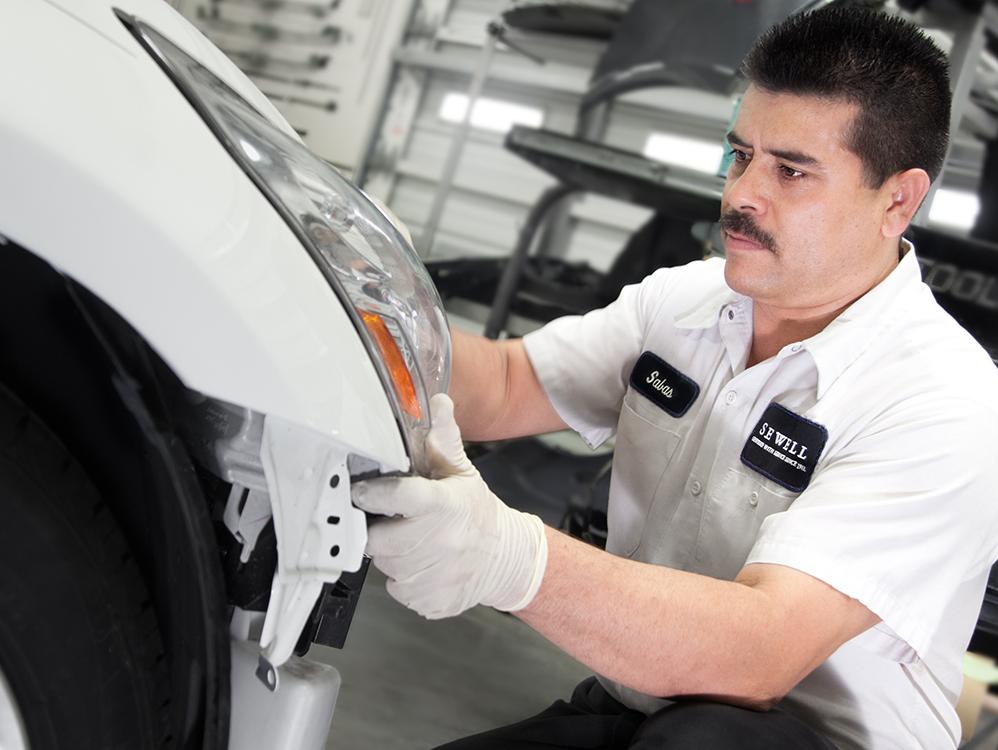 Major Repair
The best part of our job at Sewell Collision Centers? Watching the delight and disbelief on customers' faces in that first moment when they see their beautifully restored vehicle. Our goal is to bring your vehicle back to its pre-accident condition, if not better. One advantage of coming to Sewell for collision repair is the sheer scale of our operation. Think of it as the automotive equivalent of a major metropolitan medical center. It is where the specialists are, with the tools and experience to take care of the unusual cases as well as the more routine ones. Our professionals have handled every imaginable type of collision damage; they know precisely what to do to put your damaged vehicle right again.
Paintless Dent Repair
PDR, as we call it in the trade, removes everything from minor dents and dings to serious-looking creases and major hail damage while preserving the vehicle's painted finish. It has a lot of advantages: faster repairs, fewer days with a rental car while your vehicle is in the shop, reduced insurance claims - lower costs in general. There's a real art to paintless dent repair. It takes an experienced, certified technician, and that is exactly who will perform the service at Sewell. It also takes an expert eye to know whether PDR is appropriate in any particular case. Simply bring us your damaged vehicle for a free assessment and computerized estimate.
Auto Glass Repair
From fixing small chips to replacing full windows and windshields (and, if needed, matching the tint of your other windows), efficient auto glass repair is a specialty of all the Sewell Collision Centers. The old "stitch in time" principle certainly applies to glass repair. If your windshield suffers a rock chip or a scratch, we can easily prevent it from becoming a larger problem. Our technicians can fill the damaged area with an advanced, clear resin that, after curing with ultraviolet light, restores the damaged area to its original strength and near-original clarity.
Towing Service
No need to call an outside towing service; simply call us. "You have been through enough. Let us handle that." That is our attitude about every aspect of collision repair, including the process of getting your damaged vehicle to our collision center.
On-Site Rental Cars
Sewell has partnered with Enterprise to offer low-cost, current-model rental vehicles, from economy cars to cargo vans, at all our collision center locations. Because we handle insurance claims for our customers, rental car allowances and all, our process of getting your vehicle checked in for repairs and getting you on your way in a rental vehicle operates like a well-oiled machine. Minimizing the interruption to your life and business - that is what we are all about.
3M Window Tint
Why do we specify 3M? They invented window tint in 1966 and have been the technology leader in the field ever since. We apply their product to a lot of customers' vehicles, and with good reason. It protects a car's interior from harmful solar rays that can fade and weaken materials. Talk about effective sunscreen! The SPF of 3M window film exceeds 1,000. Window tint is a comfort feature too. Heat-rejection technology pioneered by 3M keeps the interior cooler. Plus you may simply think tinted windows look cool. And we agree.
Scotchgard Paint Protection Film
An innovative secret weapon in the battle against paint chips and bug damage, Scotchgard paint protection film is a durable, colorless urethane armor that protects vulnerable, high-impact areas of your vehicle. It not only keeps your paint looking great, it helps boost trade-in value. We recommend it for the surfaces of your vehicle that take the brunt of road debris.
On most cars: leading hood edge, wheel flares, side mirrors, rocker panels, and leading door edges

On SUVs, trucks, and minivans: leading box and door edges, door handle inserts, bed rails, cab extensions, rocker panels, and factory step-rails

On sports and performance vehicles: leading hood edge, front air scoops, rear fender panels, and windshield edge molding.

THE COLLISION REPAIR PROCESS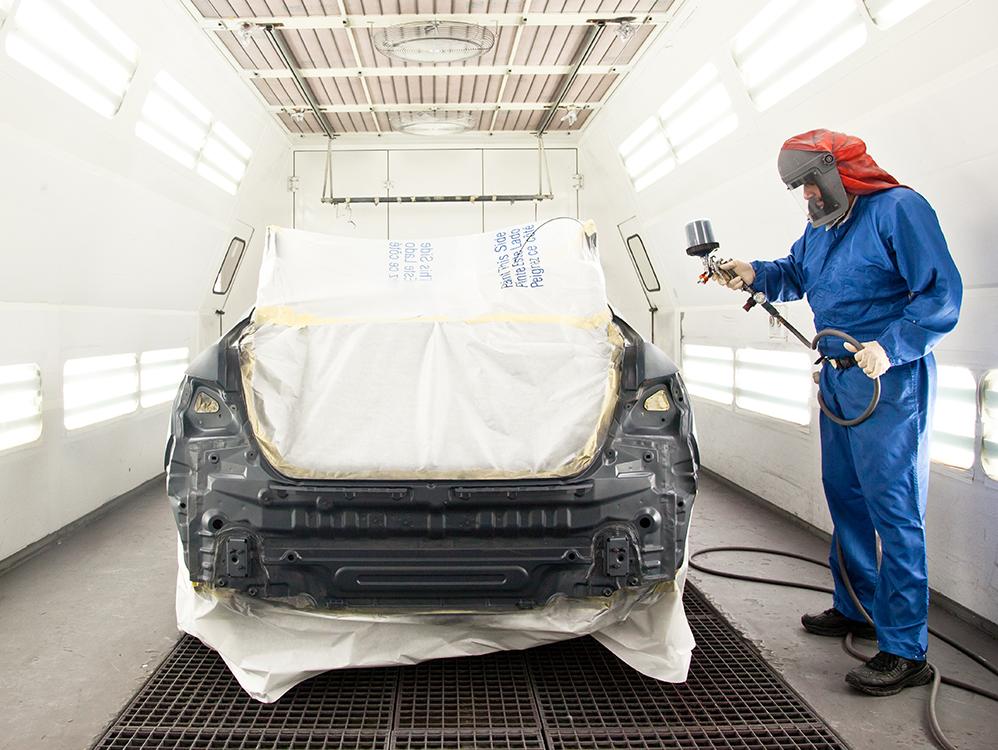 1. Estimate and Order
Our estimator inspects your vehicle and documents damage

You sign a repair authorization

Your insurance company approves the estimate

We locate and order necessary parts

The parts arrive

We call you to let you know the parts are here.

2. Disassemble and Reinspect
We disassemble the vehicle to reassess for damage

If additional damage is found, we produce a written report

Your insurance approves repair of the additional damage

We order additional parts if necessary

We call you with a status update

3. Repair and Test
We return the vehicle systems to factory settings
Structural and body repairs begin
We complete cosmetic repairs
Corrosion protection is reapplied
We retest the vehicle to ensure proper operation
We call you with a status update
4. Reassemble and Return
If painting is needed, the vehicle is prepped, primed, and block sanded
The vehicle is masked, taped, and painted
Chemically cleaned and tacked
Refinished
We reassemble the vehicle, do wheel alignment, air conditioning, detail, and conduct test drive
You get a call with the good news that your vehicle is ready
WHAT TO DO AFTER AN ACCIDENT
Emergency Kit
We recommend following guidelines developed by the Consumer Protection Association of America. They begin with a wise step to take before there's an accident: Keep a simple emergency kit in your glove compartment; it should include a pen and paper, a card with information about any medical conditions or allergies that may require special attention, and a disposable camera if you don't have a cellphone camera. It is also wise to keep a set of warning triangles, emergency flares, or cones in the trunk. Here are the after-accident guidelines:
1. Keep Safety First
Drivers involved in minor accidents with no serious injuries should move their cars to the side of the road and out of the way of traffic. If a car cannot be moved, the driver and passengers should remain in the car with seat-belts fastened until help arrives. Turn on hazard lights and, if possible, set out cones, flares, or warning triangles.
2. Exchange Information
Exchange name, address, phone number, insurance company, policy number, driver license number, and license plate number for the driver and owner of each vehicle. If the driver's name is different from the name of the insured, establish what the relationship is, and take down the name and address of each individual. Make a written description of each car, including year, make, model, and color. Write down the exact location of the collision and how it happened. Be polite, but don't tell the other drivers or the police that the accident was your fault, even if you think it was.
3. Photograph and Document the Accident
Photograph the damage to all the vehicles, and photograph the overall context of the accident. If there were witnesses, try to get their contact information; they may be able to help you if other drivers dispute your version of what happened.
4. File an accident report
Although law enforcement officers in many locations may not respond to accidents unless there are injuries, drivers should file a state vehicle accident report, which is available at police stations and often on the Department of Motor Vehicles website. In Texas, it is available from the Department of Transportation at txdot.gov. A police report often helps insurance companies speed up the claims process.
5. Know what your insurance covers.
The whole insurance process will be easier if you know the details of your coverage. For example, don't wait until after an accident to find out that your policy doesn't automatically cover costs for towing or a replacement rental car. Generally, for only a dollar or two extra each month, you can add coverage for rental car reimbursement. Check your policy for specifics.
6. Think twice before agreeing not to file insurance claims.
After minor accidents, drivers sometimes decide to handle the damages themselves. This isn't always the best idea. While the other driver may agree to pay for the damage to your car on the day of the accident, he may see the repair bill and decide it's too high. At this point, your insurance company will have more difficulty piecing together the evidence if you file a claim. Also, you have no way of knowing whether another driver will change his mind and report the accident to his insurance company. He may even claim injuries that weren't apparent at the scene of the accident. This means your insurance company may end up paying a hefty settlement or, worse yet, you could be dragged into a lawsuit. The safest course is to make sure your insurance company has your version of what happened.